What Makes A Company Great
What truly makes a company great?
What truly makes a company great? I could give you a long list of misleading choices, all that would contribute to a company's success, but most already know the answer, so I'll save us the time. It's the people. More specifically, good, hard-working, loyal, caring people. People that have principles, morals, and good character.
These people are not perfect, no one is, but they each do have something in common; they take their work personally. When they step out on the sales floor, answer a customer's call, or head out on the road to provide a company's valuable service, their employers can rest assured knowing that these employees are treating each sale, each call, each service as if they owned the company. Their motivation may come from a variety of sources or ideologies, but the results are almost always the same: satisfied customers, successful companies, and healthy work environments.
With little doubt or hesitation, we can say that our employees are what make Town & Country Pest Solutions Inc. greater than your average pest control service. We have been blessed with a great team of employees that put their reputation on the line each time they show up for work. We believe that this is what makes all companies great, it's what made America great.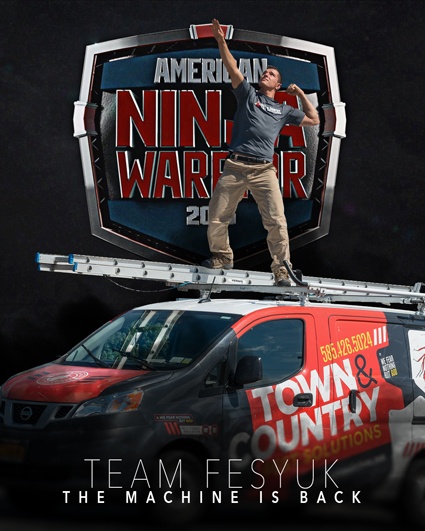 Take
Pavel Fesyuk
for example. Pavel has been a member of our team since 2008 and has created a niche and a following in the industry. Many know of him from his TV appearances on
American Ninja Warrior
. Those acquainted with him have probably witnessed him performing wild athletic feats like scaling a 20 foot cement pillar or back-flipping off a 10 foot high beam on to the sand below with no protection or spotters. Some might describe him as crazy, wild, and reckless, but those who really know him have little fear watching him as he pushes his physical limitations. He's more of a calculated risk taker, of course that doesn't mean we don't talk him out of a few crazy stunts here and there.
Energy like that doesn't just turn on and off. No, Pavel brings that same enthusiasm and drive everywhere he goes. We're not sure if being an exterminator is more beneficial to his goal of being the next American Ninja Warrior, or if it's his ninja training that makes him a better exterminator. Whichever it is, we are just thankful that he is part of our team.
As a customer, you can be assured knowing that this kind of passion guarantees you a better service. In fact, it is this same competitive edge that produces superior service from all of our employees. As individuals, they all have this same drive, and as a team, they push each other to be even better.
We asked Jordan, one of Pavel's co-workers in the field, to share what it is like to work alongside Pavel, and this is what he had to say.
Working with pavel is nothing short of entertaining. You probably know him from his time on American Ninja Warrior or his daring exterminating videos. Many people like Pavel record highlights of their most impressive moments; Pavels moments is his everyday life. He seizes every opportunity to push his limits, although I'm not entirely sure if he has any. Working with Pavel for the last three-plus years has encouraged me to have no fear but optimism with every task. His work ethic and innovativeness is contagious. He's humble with each success and I believe that to be [the reason] why people enjoy watching him so much. Some might question his reasoning behind attempts like hanging off the side of a 30 foot building(harnessed of course) just to catch a squirrel, but I see someone living every moment to the fullest. He's fun to work with and I look forward to seeing where life takes him.
Maybe you are reading this as a customer, current or future. Or perhaps as another business owner looking for ways to improve your own business. Either way, we can confidently and proudly affirm (confirm) that it is our employees that make us the best in the business.
"If you take care of your people your people will take care of your customers and your business will take care of itself." – J.W. Marriott