Office face lift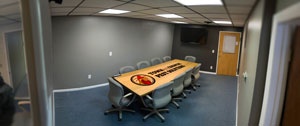 Town & Country has been blessed to be able to expand our office space. We have officially taken over the entire floor.
No more trudging out through the snow, ice, and cold to The Pod. We now have indoor storage, and plumbing! Just kidding. We always had indoor plumbing.
Here are a collection of photos of the guys helping out with the big move. It was quick and efficient which is how we do things around here.
When you have a staff as talented as Town & Country's, it is not difficult to get things done and get them done right. Here are two of our techs, Pavel and John Paul showing off their painting skills. If this exterminating thing doesn't work out for us, we know that we can just start a painting company.